'65 GIBSON ES330TD
An instrument I used to own and which previously belonged to Huw Lloyd-Langton of early Hawkwind, RIP and came to me via Ian 'Sid' Bishop.  Great condition, lovely colour, but I could never get on with the skinny later 60's Gibson neck profile and I found the nickel covers sucked the tone of the P90's.  A pale shadow compared to my '60 and '62 models.
More of an ornament, therefore and not a guitar I miss much – better for videos than sessions.  I acquired it in part exchange for the first Gibson my dear dad bought me (a '72 SG Deluxe, not one of Gibson's finest but it was my first love).  I then traded it for my '56 Gretsch Duo Jet, so the Gretsch now carries the 'bloodline', and very admirably it does it too…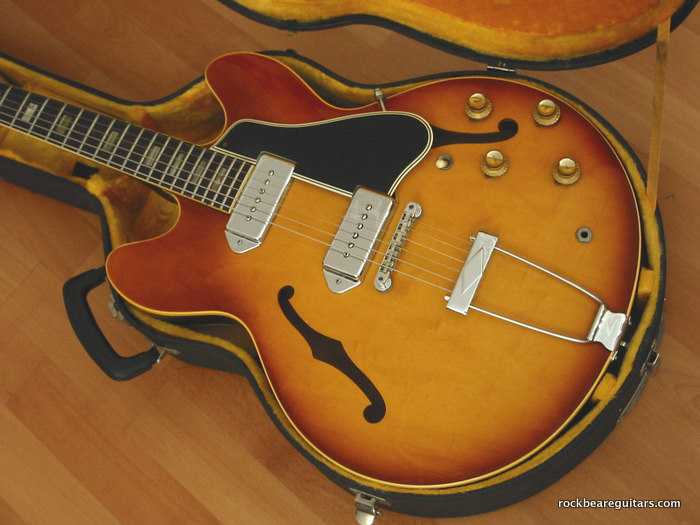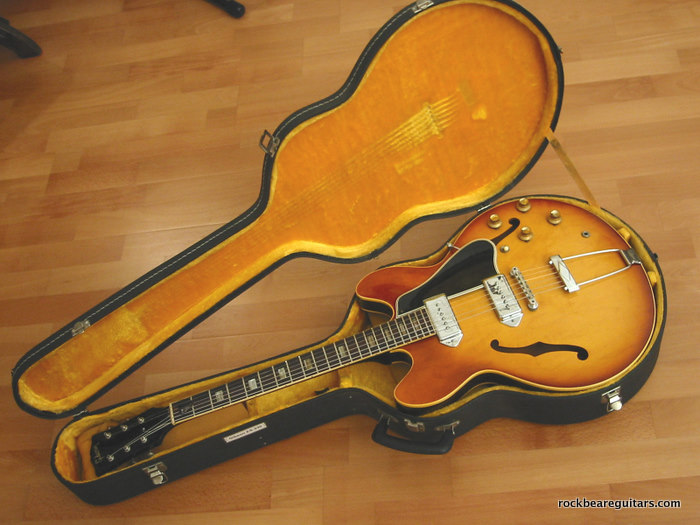 _______________________
'91 TOM ANDERSON DROP TOP
The first time I played one of these was when I had not long bought the PRS and the Steinberger and was still paying them off, but I was blown away and had to have one. The neck feel, the sound, was just right.
For several years I felt that these guitars should have had more recognition than they got, certainly by comparison with their peers. The clean sound remains a reference, but over time I have found its very compressed overdriven tone increasingly difficult to work with. I have the original Tom Anderson bridge humbucker, but have substituted a Bare Knuckle 'The Mule', which was an improvement.
Mint, with original black rectangular case and candy, sold in April 2019 as i simplay wasn;t playing it any more. Pleased to say the new owner is delighted with it and I hope it gives him as much use and pleasure as it did me back in the day.
_______________________
'91 MUSICMAN EVH SIGNATURE
A modern classic which I owned from new in 1991 until 2019. Some 6000 were made between 1990-95 and this is one of the first batch of three in the UK (a red one, a turquoise one and this one, since you ask). Very useful info site at http://www.rocknrollweekend.com/music_man.html.
The last pic was taken in sunlight as the indoor shots don't capture the magenta colour well.  Not to everybody's taste, but it's quite a rare colour, especially in this dead mint condition with matching rectangular black case and all case candy.
Great distinctive palette of sounds from its custom-wound pickups. Like all MusicMans, the neck is very true so the action is very fast. Superb for modern legato, tapping and high speed widdlywiddly stuff, but surprisingly good for jazzy stuff on the neck pickup too…